Every year, Winexpert and Vineco produce a limited number of exclusive 8-week wine kits, and Wine 4 You is the only place in Saskatoon that you'll find them all!  These exclusive kits highlight different varietals/styles every year, and range from unique blends to hot industry trends to rare, hard to obtain and sought after varietals and regions.  New kits are released every month from December to April, so don't miss out on any of them!  Full details on this year's Limited Release wines below.  
Limited Release wine kits are available by pre-order in the late fall.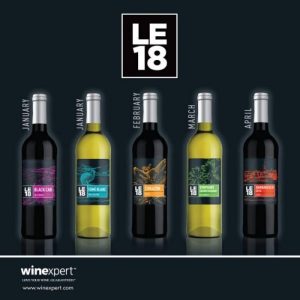 LE18 – 18L, 8 Week
http://winexpert.com/product/?brand=le18&brand-desc=1
BLACK CAB (Cabernet Sauvignon, Gamay Noir) Lodi, California – Jan 2019
Red Wine. Cherry, red berries, cassis, spice, soft vanilla. Vibrant acidity & smooth tannins.  
FUMÉ BLANC (Sauvignon Blanc) Hawke's Bay, New Zealand – Jan 2019
White Wine. Tropical fruit, gooseberry, melon, grassy notes, gentle vanilla oak. Bright acidity.
CORAZÓN (Carménère, Cabernet Franc, Syrah, Pais) Curico Valley, Chile – Feb 2019
Red Wine. Juicy black & red berries, cherry, plum, with underlying oak & smooth tannins.
 SYMPHONY GEWÜRZTRAMINER – Sierra Foothills, California – March 2019
White Wine. Floral & peach aromas; tropical & stone fruit flavours. Crisp & bright with subtle sweetness.
BARBARESCO STYLE – Piedmont,  Italy – April 2019 (made with crushed grape skins)
Red Wine. Cherry, red berry, licorice & spice, with firm tannins & a long finish. 
Passport 2019 – 18 L, 8 Week
http://vinecowine.com/brand/passport-series-2019/
MERLOT CABERNET FRANC – California – Dec 2018
Red Wine.  Plum, red and black berries and dark cherry fruit notes, with underlying woody smoke, herbal spice and soft tannins.
WEST COAST WHITE (Chardonnay, Riesling, Pinot Gris) California, Washington, Oregon – Jan 2019
White Wine. Fresh aromas of orchard fruit and delicate honey rise from the glass, while the palate sings with lively pineapple,lemon and stone fruit flavours combined with hints of apple, pear and honey. The zesty acidity in this wine balances the slight sweetness perfectly.
MALBEC GARNACHA SYRAH – Argentina & Spain – Feb 2019
Red Wine. Aromas of dark berries with nuances of licorice and chocolate. Balanced and full with soft tannins, a palate of ripe black and blue berries are complemented with spice of black and white pepper, creating a finish that is long and pleasing. 
SUPER TUSCAN – Italy – March 2019 (made with crushed grape skins)
Red Wine. A blend of Sangiovese, Merlot and Cabernet Sauvignon, this full bodied Super Tuscan exhibits aromatic notes of oak, vanilla, leather and spice while the palate punches with bold black cherry and raspberry flavours. Firm but not aggressive tannins and a long lingering finish makes this wine a true show stopper.